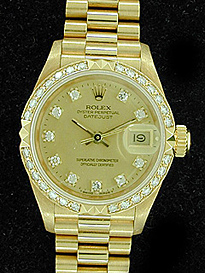 Capetown is NOT an official Rolex jeweler.
There are few products available to purchase that engender more angst and suspicion than a Rolex watch. Here are the facts and the fancy:
A) Every major corporation that sells branded products usually sells them through hand-picked retail outlets or factory stores. Some examples of high-profile branded products other than Rolex are Louis Vuitton and Rolls Royce Motorcars.
Today, it is a very expensive proposition to maintain a brand awareness in order to catch the eye of the potential consumer. Literally millions of dollars have to be spent world-wide in expensive, upscale advertising in order to maintain a sufficient amount of brand awareness to cause enough sales to allow a profit, much less cover the cost of the advertising. In the February edition of Town & Country, there was a full two page ad displaying a smashing photograph of a new Rolex Oyster Perpetual Date. It is my understanding that these ads cost around $25,000 each. There is also the cost of maintaining an inventory and a service department, among other things. So naturally, the manufacturer does not want to have somebody free-riding on his or her coattails.
B) It is natural that Rolex would want all of their products to be vended by their authorized dealers. Here is why that is not always possible: Retail-wise, we are in a new marketing mode in America. Discounting is here to stay. This new mode makes it impossible for the Rolex company to control its own inventory because most consumers will just naturally gravitate to the lowest price. As it stands, it is very hard to get a discount from an official Rolex dealer. Most of them simply do not want to deal at less than factory suggested retail because of high operating overhead.
On the other hand, there is always an official dealer who is suffering from a lack of cash flow and for financial reasons will, against all agreements with Rolex, sell or trans-ship a sufficient amount of product to somebody with cash in order to put out some financial fires in his or her business.
Here is why we are not an official Rolex jeweler: It's hard to believe but, we do not measure up to Rolex's standards. Despite that we've only been in business since 1969 and that's not enough longevity for them, WE have an excellent credit rating all over the world, but they have criteria that we just don't meet.
They have a pretty homogenized set of jewelers. They all come out of the same mode and I agree that we just do not fit in with that crowd. At Capetown we subscribe to the "Laissez Faire" style of business that the American society seems to want. We just don't take to being pushed around by foreign companies. My only solace is that Sam Walton would have never been approved as a Rolex jeweler either. There is one ploy that the Rolex jewelers use to try to dissuade a client from buying a Rolex from a non-authorized Rolex jeweler. They frighten the buyer with the statement that Rolex will not warranty the watch unless it is purchased from an authorized jeweler. Well, we have thrown cold water on that threat, by offering our Rolex clients, a Lifetime Warranty. We have Rolex trained technicians that have access to official Rolex parts, and our warranty program is most convenient, even if you live out of state. If something goes wrong, a toll-free call to our offices, we will dispatch to you a self sealing box, replete with packing materials. Plus we pay for all shipping and insurance charges. And this goes on for a lifetime, as long as the watch is presented yearly for specific services. Also, to do that, you call and we send the packing materials. We are, without question, the best place to buy a new Rolex in the world. Why do we go out of our way to save you money? Because that is what our company is all about, and I have gotten quite wealthy doing it this way, and we aren't changing now. You will be most satisfied, and you have my word on that.
Fortunately for most of the free world, it is a good thing that we never became Rolex jewelers. Many thousands of dollars would have been spent by many people, needlessly.
Discounting to retail customers does not fly well with most Rolex jewelers, therefore, should the consumer bring up the subject of discounting, they will attempt to badmouth the discounter and intimidate the discount-seeker with veiled innuendos regarding the authenticity of the product that is available from a discounter and the inability for the consumer to get service for those products from the discounter. These innuendos are designed to scare the unsophisticated buyer into spending more money than he or she should. They attempt to unfairly demean the products that we sell by implying that the consumer is just not getting the same product that the Rolex dealer would be delivering to them. A good portion of these innuendos and bad-mouthings is hogwash to make for good salesmanship on behalf of the retail salesperson. At Capetown, whenever we determine that lies are being told to deter clients from us, our lawyers are in the cocked position to commence litigation ASAP.

As a matter of fact, to show you how closely Rolex screens it's authorized dealers: Recently I ran across one in Columbus, Georgia, owned by Lt. William Calley, the perpetrator of the My Lai Massacre in Vietnam. He is the fellow that wiped out the whole town by firing down from a helicopter. Women and children and even the aged couldn't get away from him. I wouldn't want to buy a Rolex from him and I doubt any Vietnamese looking for a Rolex would either.

Now it happens that, with Rolex products, there is a tremendous amount of fraud, so it takes a sophisticated, discerning buyer to differentiate between fraudulent and legitimate dealers. In all fairness, the Rolex market is rife with fraud, and this type of fraud demands that one buy a Rolex watch from somebody that can offer him or her recourse in case something goes wrong years later. The wise buyer would like to know that he or she can get the watch replaced or refunded if something was to slip through the cracks. Quite frankly, if you do not fully investigate the seller, you can surely end up with a big problem.
At Capetown, that is never a problem. All of our new Rolexes come from official Rolex jewelers nationwide. They are the same exact Rolexes that you would receive from your official Rolex jeweler. Working with Rolex jewelers allows us to get new Rolex products at a low enough price to afford our clientele a meaningful discount and our company a small profit. Of course, the Rolex company knows this, but they are stuck with the difficult job of explaining to their dealers what to say to the clientele who comes back and says, "I can get it cheaper from Capetown." The best protection the buyer can get is to get everything in writing. We have outlasted many authorized Rolex jewelers like Zales and Bailey, Banks, & Biddle. Capetown has been in business since 1969 and we have significant resources with which we could pay back anyone who could ever find conclusive evidence that we sold them a defective or fraudulent product.


Now here are the facts: when you buy a new Rolex from Capetown, you are getting precisely the same watch that you would get from an authorized dealer. The box, the tags, the booklets, and the authentication papers are all included. The only thing you are not getting is access to the manufacturer's two-year repair warranty. That is it! Everything else is the same! The only other difference is the price. As a matter of fact, I, as head of a small, flexible company, have worked out the ability to offer our clientele a lifetime warranty (click here to view warranty) with almost immediate service. When we put a fine Swiss watch on your wrist, we expect it to run forever - with us maintaining it and upgrading it.
It is, without question, the best warranty in the world of fine watches. Show me a better one and I'll pay you for it. Every year, the Marcus family pays out in excess of $200,000 to maintain a full time repair staff and to hold an inventory of authorized Rolex parts. We have the ability to give immediate service world-wide.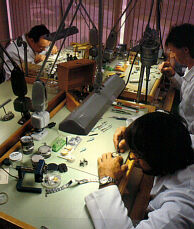 Additionally, if the watch has to be shipped out to one of our service facilities outside of the client's area, we pay both the shipping and insurance charges both ways. Now it is true that there are a lot of sleazebags around who are selling phony Rolexes as authentic and used Rolexes as new. Actually, the Rolex watch dealer has a perfect right to make his potential clients aware that there is some malfeasance in the marketplace. Well, they can say what they want.
So now, ladies and gentlemen, where should you buy your next new Rolex? Me or the authorized dealer? Well the answer is obvious, and unable to be ignored: Capetown. As a matter of fact, since I wrote this, I have realized that in the many decades that I have been in business, I have outlasted Tiffany's & Tourneau in Atlanta. Neither is an authorized Rolex jeweler. And of course, should anything ever go wrong, we have a lot of resources. We are not a moving target. I am a property owner with a very, very, very successful business.
The buck stops with the Marcus Family, and at this time, I am proud to say that, to my knowledge, we have no litigation pending against our company nor do I believe we have any unhappy clients with a legitimate gripe because if they did, we would rectify it. To the contrary, we have signed statements by almost 2,000 satisfied clients and an unblemished record with the BBB and the Georgia Bureau of Consumer Affairs. If you are an advocate of free enterprise, you should not allow anybody to deter you from doing business with an honest, independent jeweler such as Capetown.
Nevertheless, there are a great many Swiss watch manufacturers who tell their jewelers to scare the life out of the buyer. "How do you know the watch is authentic?" "What if it breaks?" "Who will fix it if Rolex won't?"
Well, the fact of the matter is, you're dealing with a pretty nice bunch at Capetown. It is a family run business. I am the patriarch. Most of our employees are happy and hoping to spend a lifetime with us. I, Carl Marcus, the owner, am a 73 year old disabled fellow with no need to cheat or trick anyone. If you are rational and respond to logic, I guess we'll have a good business relationship. I can supply you with 2000 recommendations from upscale Americans - including top echelon business men, corporate heads, doctors, lawyers, educators, et cetera - that will vouch for our integrity over the last 32 years.
In summation
Here's to a successful business relationship,
Carl Marcus,
Chairman of the Board