To Enter our Pre-Owned & Consignment
Watch or Jewelry Sections
PLEASE SCROLL DOWN




Enjoy spectacular savings on one-of-a-kind merchandise: fine watches, estate jewelry, art and antiques. All are priced for immediate liquidation. All are from private parties, estates, distressed jewelers, out-of-pawn and bankruptcies.

BUY IN CONFIDENCE

Capetown guarantees all items to be as represented. All featured jewelry is accompanied with a complimentary appraisal. All pre-owned watches and clocks have been professionally reconditioned by Capetown's technicians. All contemporary pre-owned watches carry our Lifetime Warranty. Vintage & antique watches and all clocks usually carry a 1-year warranty. Five day money back refund (less shipping charges) for any reason.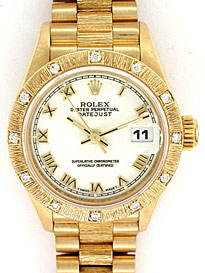 Capetown is not an official Rolex jeweler.
The difference between Capetown and our competition:
The difference is Quality - not price.
Click Here for a definition of what quality is.

Please note:
The special values found on this section of our website consist of consigned items from private estates. Thus, we are able to offer them at greater than normal discounts. THESE ITEMS CONSTITUTE ONLY A SMALL PORTION OF OUR MULTI-MILLION DOLLAR INVENTORY.
Besides offering "Private Party Consignment" merchandise, we also discount thousands of other fine watch and jewelry items. If the item you are looking for is not represented in this section, you may wish to:
View our "Extra Special Values" section, which offers limited quantities of new watches & jewelry at special liquidation prices. (To access click on main menu below)

Can't find exactly what you want?? Phone or Fax our Atlanta Mail Order Center with specific needs. Mail Order hours M-F 10:30-6:00pm EST. Phone: (770) 645-8555 Fax: (770) 645-0450
Home | About Us | Start Shopping Now | Contact Us